Hockney Shows off Stained Glass Designed on iPad
British pop artist, stage designer, and photographer David Hockney has show-off his latest work, after he was commissioned by London's Westminster Abbey to celebrate that of the reign of Queen Elizabeth II. For his work Hockney, 81, designed a stained glass window on his iPad. The stained glass was crafted by the artists at Barley Studio, and it was shown off to members of the press on the 26th of September 2018.
The stained glass window depicts a countryside scene in the bright, prime colours, that are very much associated with Hockney's vivid work.
The stained glass, as seen in Westminster Abbey, above the statues of former prime ministers including Peel, Gladstone, and Disraeli. Taken September 2018.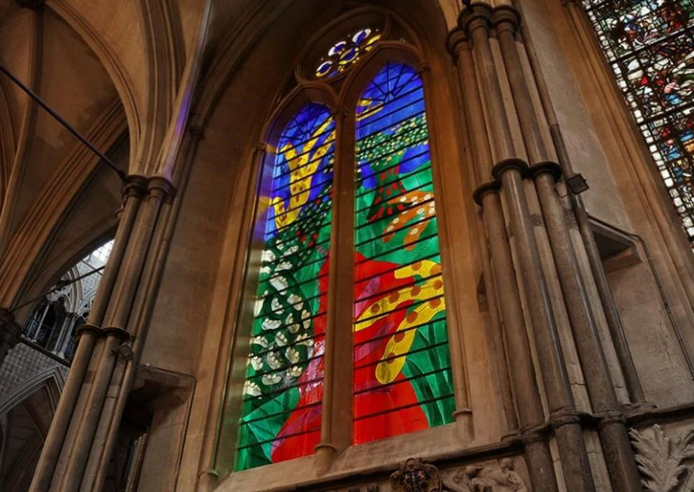 Talking about the art, the Dean of Westminster, the Very Reverend Dr John Hall, said that;
I'm very pleased that David Hockney accepted my invitation to design this window which is a celebration of the reign of Her Majesty The Queen. What he has produced is directly accessible with wonderful colours. It is a country scene to honour a woman who loves her country.
The Queen had seen a sketch of the art, but Hall said trying to find her enthusiasm for the project had been tricky. John Hall said that "The Queen very often doesn't given you a very strong reaction".
Hall said that the stained glass was much better than others in the Abby, adding that the one next to it, depicting the miracles of Jesus Christ, was too intense. "You can't really read it. It certainly doesn't speak to me. [The Hockney window] has an amazing brightness and clarity, it is a simple, utterly readable, direct scene".
The Abbey said that "The subject reflects The Queen as a countrywoman and her widespread delight in, and yearning for, the countryside". The window will be dedicated formally by the Dean in the presence of the artist, his family, friends, and invited guests on Tuesday 2nd of October at 11:30am.
This is not the first time that Hockney has embraced new technology, in fact, in the past he has made a number of digital art on his iPad, and iPhone.
---
References
I. David Hockney via The NNDB http://www.nndb.com/people/204/000032108/
II. David Hockney via Wikipedia https://en.wikipedia.org/wiki/David_Hockney
III. Westminster Abbey Queen's Window by David Hockney revealed https://www.bbc.com/news/amp/uk-england-45650539
IV. David Hockney taps iPad to design Westminster Abbey stained glass https://www.cnet.com/uk/news/david-hockney-taps-ipad-to-design-westminster-abbey-stained-glass/
V. David Hockney unveils iPad-designed window at Westminster Abbey https://www.theguardian.com/artanddesign/2018/sep/26/david-hockney-unveils-ipad-designed-queens-window-westminster-abbey
VI. The Queen's Window by David Hockney is revealed https://www.westminster-abbey.org/abbey-news/queens-window-david-hockney/
VII. Be careful, Hockney - modern stained glass can shatter medieval beauty https://www.theguardian.com/artanddesign/jonathanjonesblog/2016/nov/22/stained-glass-david-hockney-westminster-abbey
Written by Clive "James" Python, 27/09/18
★